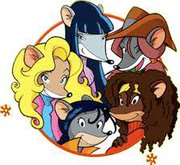 Thea Stilton And The Mystery in Paris is the fifth book In the Thea Stilton Series. In this book the Thea Sisters go to Paris, France!
When Colette invites her friends to come home with her to Paris for spring break, the five mice are delighted. While they're in France, they'll even get to attend Colette's fashion-designer friend Julie's runway show at the Eiffel Tower! But soon after the Thea Sisters arrive, Julie's designs are stolen. Will the five mice be able to catch the thief in time to save the fashion show?
Characters
Edit
Colette
Nicky
Paulina
Violet
Pamela
Julie
Ad blocker interference detected!
Wikia is a free-to-use site that makes money from advertising. We have a modified experience for viewers using ad blockers

Wikia is not accessible if you've made further modifications. Remove the custom ad blocker rule(s) and the page will load as expected.