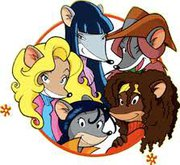 The
Thea Sisters
are a group of young mouselets who currently attend Mouseford Academy. The group consists of Nicky, Violet, Colette and Paulina, Pamela . They got the name from Thea Stilton who taught them their first journalism course and are still friends. The Thea Stilton books are based on the girls.In every Thea Stilton book,they have a particular mystery to solve.
The Thea Sisters have gone on many adventures since Thea taught them their journalism course. Traveling all over the world; they have gone to Australia, Japan, China, France, Hawaii, New York, Alaska, England, Peru, USA, Egypt, Italy, Turkey, India, Scotland, and The Bahamas.They have also travelled in space! Usually their adventures lead them on missions and quests, which is sometimes not expected. They always find the culprit in the end.They always made new friends on their adventure.
Members
Nicky-She is a Mouselet who loves being outdoors. She can't stand in small places.
Colette-She is particular about her appearance. She is fashionably late
Violet-She is a shy Mouselet who wants to be a violinist. She is detail-oriented
Paulina-She is the computer genius of the group. Loves to help other rodents.
Pamela-She is the pacifist of the group.She loves to eat Pizza,even in Breakfast!
Ad blocker interference detected!
Wikia is a free-to-use site that makes money from advertising. We have a modified experience for viewers using ad blockers

Wikia is not accessible if you've made further modifications. Remove the custom ad blocker rule(s) and the page will load as expected.