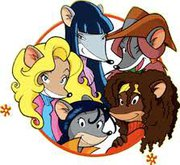 The
Thea Sisters
are a group of young mouselets who currently attend
Mouseford Academy
. The group consists of
Nicky
,
Violet
,
Colette
,
Paulina
, and
Pamela
. They got their group's name from
Thea Stilton
, who teaches them in their journalism courses and more, and serves as their mentor. The Thea Stilton books are based on the five girls and their adventures all around the world (and out), where they have mysteries to solve in each one.
The Thea Sisters have gone on many adventures since Thea met them as a teacher in their journalism course. Traveling all over the world and out, they have gone to Australia, China, Peru, France, Japan, the USA (New York, Alaska, Hawaii, and California (Hollywood)), the moon, Scotland, Egypt, India, Turkey, Italy (Milan and Venice), Spain, Kenya, Tunisia, the Netherlands, Ireland, Ecuador, Greece, Russia, the Bahamas, Madagascar, Iceland, and Canada. Usually their adventures lead them on missions and quests, which are mostly unexpected. They always find the culprit in the end and always make new friends on their adventures.
Members