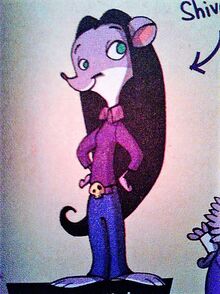 Shivereen is a teenage mouse that lives in Cacklefur castle and is Creepella's favorite niece and loves helping solve mystery's with her Aunt Creepella. She copies Creepella in every way. She has a pet chameleon named Moldy. She dreams of working in the world of fashion.
Shivereen looks like a smaller version of Creepella, she has grayish-purple fur with long black hair and green eyes. she is very fond of the color purple she wears a purple shirt, blue jeans hold up with matching belt and a skull buckle.
Ad blocker interference detected!
Wikia is a free-to-use site that makes money from advertising. We have a modified experience for viewers using ad blockers

Wikia is not accessible if you've made further modifications. Remove the custom ad blocker rule(s) and the page will load as expected.