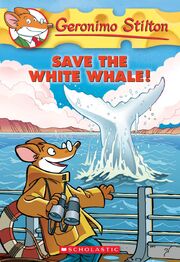 Geronimo Stilton #45: Save The White Whale is the forty-fifth book of the Geronimo Stilton series.
Holey cheese, did I need a vacation! I had been working your homework at The Rodent's Gazette and I needed a break. So I invited my friend Petunia Pretty Paws to visit the Bay of Whales with me. But our trip got off on the wrong paw,and my relaxing vacation turned into a real nightmare.That is, until Petunia and I came across a great white whale that needed our help.
Characters
Edit
Ad blocker interference detected!
Wikia is a free-to-use site that makes money from advertising. We have a modified experience for viewers using ad blockers

Wikia is not accessible if you've made further modifications. Remove the custom ad blocker rule(s) and the page will load as expected.