Paulina

Paulina

Nickname

Polly

Nationality

Peru

Ambition

Scientist

Interests

Traveling and meeting people from all over the world. She is also very close to her sister, Maria.

Strengths

Loves helping others

Weaknesses

She's shy and can be a bit clumsy.

Secret

A computer genius!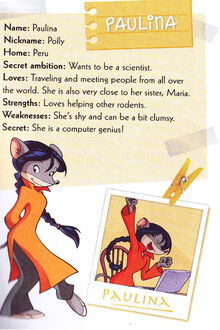 Paulina is a teenage mouse from Peru who is one of the members of the Thea Sisters.
Biography
Edit
Not much is known about her early life (other than her parents disappearing for an unknown reason), but before she went on to continue her studies at Mouseford Academy, she lived with her sister, Maria, back in Peru. She had a close friend back in her school days named Antonio de Moreno who runs a chocolate factory in Quito, Ecuador and sells them by the brand of "Cocoa Loco". They both lost contact as years passed by. As she arrives on Whale Island, she is befriended with four other mouselings; Pamela, Nicky, Colette, and Violet.
Physical Appearance
Edit
Violeta has pale tan skin, pale red blushed cheeks and freckles. She has big, sparkling azure eyes and short green hair with a cut bangs, tied into low braided pigtails, held by red bandana. She wears fuchsia ruffled dress with black bows in the center, and a section of golden frilly fabric. She also wears pink sandals with tan sole and cut section on the toe and split-tights. The leg blue, the other pastel pink.
She is based on a lol dolls.